Growing up with a mother who is not present in your life is a funny thing
I remember at a very young age that I did not have the normal relationship that I saw my friends have with their mothers. I yearned and ached for this and tried very hard to 'make' my mother love me. I know now that this just further disgusted her and I ultimately alienated myself more than before. As a young child, I had no idea why my mother didn't love me, I just knew that she didn't. As a teenager, I despised that women with every fiber in my being. In my late teens and early 20's I attempted to become her friend, encouraged by my therapist. Finally at about the same time, I realized that this "normal relationship" that I was searching for was never coming to fruition and I simply stopped caring. That was the single most defining moment in my life . . . until my son was born.
Growing up with a mother who is not present in your life is a funny thing. Not funny ha ha, but funny weird. My own mother was in the house that I grew up in, but she was not really a mother to me. She did not parent me. I never experienced a situation where my mother held my hand, hugged me or rubbed my hair and told me everything was going to be okay, even if it wasn't. I never heard the words that only mothers say to make everything good again. . . like I say now to my children.
When you grow up without a mother, it is not a normal experience. As a result, I developed differently than other women and girls who have their mothers. What is normal for me isn't (normal) for other women. There is one piece of me that will always be different, feel different, from other women. But completely separate in the way a women feels whose mother dies. I am a motherless daughter, a motherless mother, whose mother is very much alive.
"This is the mother-love, which is one of the most moving and unforgettable memories of our lives, the mysterious root of all growth and change; the love that means homecoming, shelter, and the long silence from which everything begins and in which everything ends."
—C. G. Jung, Aspects of the Feminine
I love this verse above, but not for my own memories, but for the fact that I know my children will feel this way about me. I don't have a love rooted in my hometown, in the house where I grew up, in my mother's arms. I don't have a single memory where a hug was given to me to comfort me. When I look back on my childhood, I see myself, alone. Alone and lonely, isolated and separate.
My standards for motherhood, and for what I tell myself a mother should do and be, are so very high, that most of the time the tips of my fingers barely touch the bar. I am completely and wholeheartedly overprotective of my children. I give my children what was missing from my childhood. Love, Nurture, Touch, Support, Kisses, Interest, Affection, Admiration, Adoration, Concern, Regard . . . Significance.
I am preoccupied with the death and/or kidnapping of my children. I worry incessantly about this. The thought of a free-range child would most definitely send me into full on cardiac arrest. I do not let my children out of my sight. Literally, when they started school, I was a bloody mess. I also worry about my death. What will happen to my children if I pass. How could they possibly get by each day without me. I have folders full of information for my husband in case this does actually happen. One of the main reasons I stopped wanting to try for another baby was because I was afraid that another birth might kill me. How could my husband possibly raise a newborn without me there to breastfeed? Let alone a newborn and three young children.
This (almost) compulsive vigilance and free-roaming fear prompts me to keep meticulous records. I have elaborate scrapbooks for each child and extensive home movies, just in case. I know how randomly this relationship could be broken. I can identify with my children, and I want to give them everything. I want my children to have had the best mother that any child can have, just in case our relationship is cut short.
When I was pregnant with my son, I never had anyone to share this joy with, except my husband or my brothers. I did not have a base to run to and ask "is this normal or did this happen to you". I had to ask my ob those questions. When my son was born, I didn't ask for help from anyone, in part because of my own self-sufficiency and coping skills I was forced to develop after I was left 'motherless'.
The other day I was visiting a dear friend, one who has know me since I was 18 years old. We are very much alike in that we are motherless with our mothers very much alive. She is 58 and still struggles daily with this. She misses her mother very much. I, on the other hand, have been able to move on in my life and have become most happy, especially with my own motherhood experiences. I was visiting her with my little one and I was sitting on the floor chatting with her and still paying rapt attention to my daughter. My friend, stopped mid sentence and stated to me, "you are a fantastic mother T and I'm very proud of you and I have no idea how you do it". She has two lovely daughters who are both married and their relationships are strained.
I can't say that what I am doing is right or wrong. But I do what feels right for me and what makes me most happy. I do struggle with a powerful tension in my parenting. On the one hand, I want to impart self-sufficiency and independence in my children (you know, just in case). On the other, in my heightened need to give more than I got, I have become a hovering presence in my children's lives. This, unwittingly creates its own dependence, on me. Because I do everything for my children, I am extremely exhausted, but it is a rewarding exhaustion. My husband was not as supportive as he is today with my parenting style, but he understands what is driving my behavior.
I work very hard to avoid (ever) being benignly neglectful of my children. As my own mother was to me, she was a very mean parent and I refuse to ever, ever be that hard. I cherish the moments where I can say to my children, 'I love you . . . you make my heart sing . . . do you see my love for you'.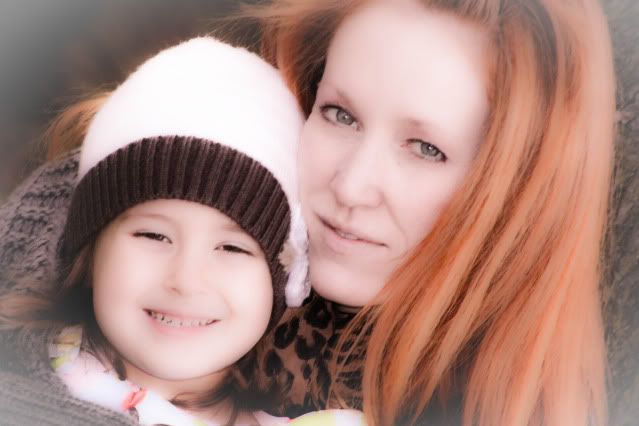 Do you see my love for her?