What Are You Wearing?
this is me fresh faced out of the shower (daughter had to be in the photo too)
Can you believe it's Tuesday already? I have been so excited to see who will link up today and play along! How was your week? What are you wearing today? Is it awesome?
Dear people, my outfit is not. In fact it may be the direct contrast of 'awesome-ness'. Truth be told, it is cold here. The weather forecast for today is rain mixing with and changing to snow in the afternoon, this is after freezing rain all night long. I am dressing for warmth today! I wanted to wear something fabulous, wonderful, cute and very fashion minded . . . but alas, I'm freezing and opted for a sweater.
Okay. So here it is, my outfit: I'm actually wearing jeans again, Levis, super low waist . . . love them, very comfy . . . a light blue DKNY sweater that is super soft and cute and I
adore
the color (I happen to have three different sweaters in this shade of light blue), socks, no shoes yet, it's early, but I will be wearing a pair of Born boots that I have had for about 5 years now (amazing brand, I own 4 different pairs) and the adorable blue earrings that I have had forever. Oh, and blue eye shadow to match my amazing blue shirt . . had to do it! (click on the photo to see details)
DKNY sweater - VonMaur Department store 2 years ago
Levi's jeans - $24.99 - Kohls
earrings - gift from DH years ago bought here
daughter attire - Gap - shirt $14.50 & leggings $12.50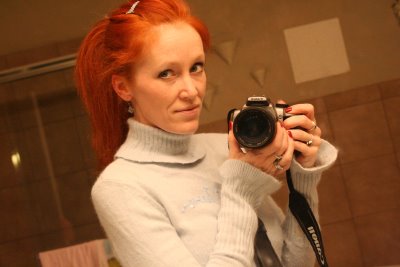 I decided that my hair looked much cuter up with this sweater.
Your turn.
What are you wearing today?