Learn. Create. Share. With LeapFrog
LeapFrog continues to put out fabulous new products like the LeapPad Explorer Learning Tablet. Your children will learn, create and share with LeapFrog.
LeapPad Explorer Learning Tablet
I love LeapFrog. I say that loudly and proudly and truthfully. I have been purchasing LeapFrog products for almost a decade now and I will continue to do so. Especially if LeapFrog continues to put out fabulous new products like the LeapPad Explorer Learning Tablet.
If you haven't purchased a LeapPad Explorer Learning Tablet yet for your Christmas list -- go -- go now -- because these letter tablets won't be on the shelves long this season. The LeapPad is that excellent.
About LeapPad Explorer
LeapPad Explorer is the personalized learning tablet just for kids with a built-in camera and video recorder! LeapPad offer limitless learning and endless play through a library of 100+ cartridge games and activities with innovative creativity and reading apps!
The tablet is the ultimate combination of high-tech features in a kid-friendly form factor! Touch the screen with a finger, tap it with the stylus or turn, twists and shake it for exciting motion-based gameplay! Kids can explore 100+ cartridge games, apps, digital books, videos and flash cards full of the characters they love.
A broad curriculum includes basics like reading, mathematics and science, plus geography, art, music, language and culture, health and more. Skill levels adjust automatically so kid can learn at their own pace, and progress is remembered from game to game and book to book. LeapPad also hosts a robust suite of creativity apps to nurture kids' innate curiosity!
I have one LeapPad Explorer for my three children and there is something for each one to play (and learn). What is so fantastic is my children are using the LeapPad and enjoying reading, math, science, geography, art, music and more! They don't even know they are learning, they simply think they are playing games.
The skill levels adjust accordingly for each of my three little ones at their own skill level and pace. There is also a  learn­ing path tool that tracks my chidlren's learn­ing progress and sends tips to my email.
The Ultra eBooks guide my children through books and enhance their love for reading (my favorite part). The innovative eBooks and stories adjust automatically for the reader (player/child). Comprehensive skills are expanded as well as vocabulary by simply reading a book app installed on the LeapPad.
LeapPad also (oh, yes, there is more) has built-in tools such as a camera and a video recorder, microphone and animation tools, plus a photo studio. My children are taking photos and creating their own little masterpieces. Additionally, I have seen some imagination at work creating lovely little plays to record. (The LeapPad hold 30,000 photos and 120 minutes of video) My children have not even depleted the memory bank one little bit ye and all three of them are utilizing these tools.
What makes this tool even better is we can simply hook up the LeapPad to our laptop and send granny their little productions.
The favorite app in LeapPad is by far the Pet Pad app. Each of my children simply need to log on to their own name on the home screen to check up on the pet they have created. They are able to nurture their little puppy to their hearts content.
Sadly, I connected my LeapPad to our computer (at my son's urging) prior to our Learn, Create and Share LeapFrog Party and I wiped out the pre-loaded app. My children were able to play Disney Pixar Cars 2 ultra eBook, Roly Poly Picnic game and Letter Factory Video for a couple of hours. However, they are children and bounced back quickly and continued on with the LeapPad as if nothing had been erased. The reason is because the LeapPad has so much to offer!
The Art Studio was a huge hit at the party. I was amazed at how patient all the children sat and waited their turn. Each child encouraging the other with their own little creations. LeapFrog products to keep all the children busy while waiting to take turns at different stations that were set up.
I actually brought the Interactive World Map and Tag to our homeschool co-op to use during my Unit Study periods (I teach) as an introduction to the students and their parents AND to invite friends over to our home for the Learn, Create ande Share LeapFrog Party! It was a great idea and the children and their parents were really excited to see the LeapPad (and other products) from LeapFrog.
LeapPad Explorer Tablet
The party was a huge success! I handed out all the coupons. I actually didn't have enough even after cutting the pages in half! I had stations set up throughout my house so the children and moms could rotate between the LeapPad Explorer Tablet, coloring sheets, activity sheets, Tag Reading, Tag World Map (I already had another Tag unit) craft and food stations.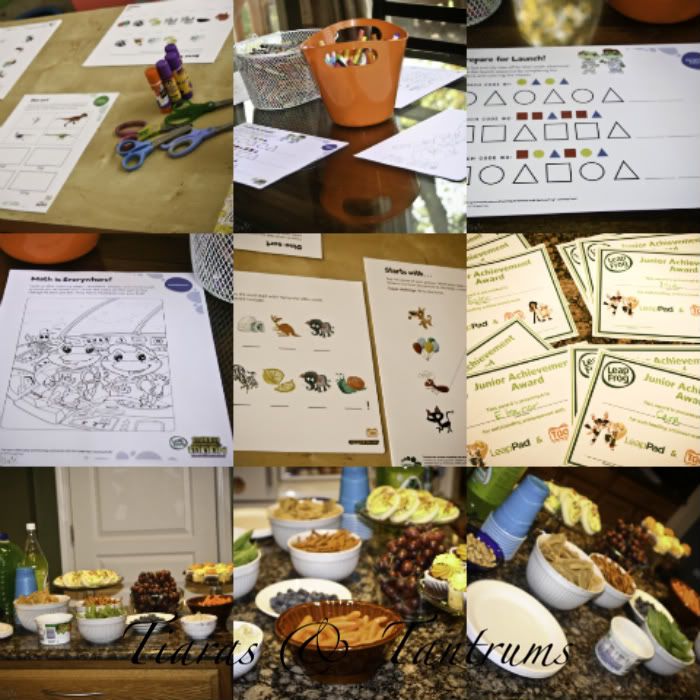 I know a few children who will be receiving the LeapPad for Christmas this year so they can Learn, Create and Share.
Disclosure: I received free LeapFrog products in order to host a Learn, Create and Share Party. LeapFrog did not influence my opinions expressed here as a result. Some images courtesy of LepFrog
About LeapFrog LeapFrog is a leader in education innovation—creating award-winning toys and reading and mobile learning systems that make play and learning even more fun. Our mission is to inspire a lifelong love of learning and empower parents by providing personalized insights and recommendations for their child's learning progress.