This Week I have been running around like a crazed woman with a foggy brain
Oh, Lordy it is cold here these past couple of days. The air is brisk and there are flurries in the air. My children are so excited for snow they can barely contain themselves. I would rather chew nails than see snow, but oh, well. That is what I get for living in the midwest.
I have been so busy these past couple of weeks with fundraising tasks that I have not been able to make my weekly rounds to blogs. I miss reading all my favorites! But, I have been quite successful in hitting up area businesses for donations. I am quite happy with the donations thus far. I just hope the momentum continues.
On top of this I have decided this year that I would hand make all the teacher's gifts for Christmas (of which there are five). I am getting nearly finished. I made coasters out of ceramic tiles. (I liked this so much that I also made some for my MIL and BIL's family) I am going to include a handmade tassel as well and chipboard initials, decorated naturally. I hope these gifts aren't considered the 'crappy gifts'. I just don't know what is the proper gift to give. But frankly, with the economy the way it is, we just can't spend what we would normally give. What is the norm? What do other moms give their children's teachers for Christmas gifts? Last year I gave all the teachers $50 gift cards. I don't even know if this was adequate? Perhaps I am cheap, I just don't know.
I had the most brilliant idea to finally put all my scrapbooks up on Etsy. I'm still not finished however. My husband was happy and optimistic. I think I am too, we shall see what happens with this. I'm so used to just giving away all my pre-made scrapbooks as gifts that the idea of selling them is sort of foreign to me. I also think that I don't want to be disappointed, there are so many beautiful items for sale on Etsy that I feel like the Who that only Horton can hear.
Is everyone done with their Christmas shopping yet? I bought a few gifts back in October, I think it was back then, for the children. On Monday I shopped on the American Girl website (and it was so stinking s.l.o.w) for a few items and they arrived on Wednesday. AG shipping rocks it out. But that is it for my children. I really don't want to buy my children anymore toys. They have their favorites and then the rest of their toys (piles of them) just sit and gather dust. I can't think of one item that they really need at this point. I would like to get them all something really special and nice for Christmas, but I can't think of anything that would be the WOW gift. Any suggestions?
I still have not even started one single Christmas card this year. Unbelievable for me because I usually have all mine completed, stamped and ready for mailing by December 1st. I don't even want to send a card out this year. I normally type up this beautiful 2-3 page Christmas letter to enclose as well and this year I can't even begin to think about it. I think I'm turning into a Scrooge. The yearly letter this year is not going out, I can say that much. The card is still a maybe. I think if I get a card, I will send one back. How miserable is that? I am a Scrooge!
To make matters worse for me this week in all my craziness of running around picking up donations, calling and soliciting for donations, making Christmas gifts and still trying to maintain a normal household for my children, I am sick . . . again! Humpf! I caught a cold a a week or so before Halloween. I felt like death back then. But I couldn't shake the cough. I was coughing up until a week or two ago. I literally went through four bottle of cough medicine and I seriously don't want to buy anymore. I feel like a drug addict when they ask me for my license. Do they really track how many bottle s I am purchasing? Then last Sunday morning I woke up and my brain was dead. Full of fog and other unpleasantness. This season is not going to be fun for me, I can tell already.
Alas, I have bored everyone enough with my week, so I shall move on to my outfit today. Today I am dressed for warmth as it is a brisk 35 degrees. I don't like any of my sweaters this year, does this happen to everyone? I think I am very fickle with my clothes. I found this one early fall and have been wearing it as a jacket, but today it will not be serving me as a jacket, but as it's intended use. I love this hat and matching gloves set that I found. Very cute and fun to wear! If it is sunny by you and you are wearing shorts or something like that, please don't tell me, I may break down and cry.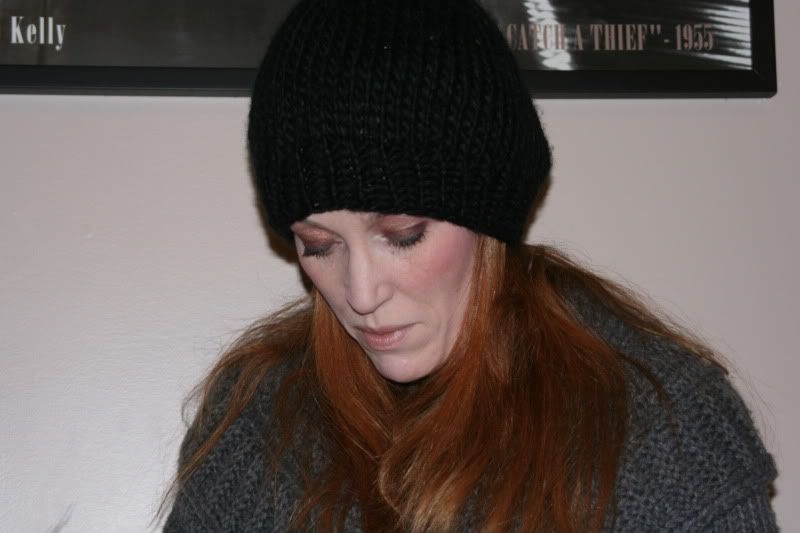 sweater - Forever 21 ($40)
grey long sleeved T-shirt - Old Navy ($10)
jeans - True Religion
hat/half gloves - H&M($11)
You can post or just comment . . .
tell or don't tell . . . show or don't show (maybe soon you will show) . . . exactly what it is you've put on today!