Summer Tour of My Home
Master Bedroom
So today the tour will continue to the second floor of my home, first stop my bedroom.
This is my winter bedspread. It is silk and hand made from China. I adore it and my children have ruined it (ripped the seams) already by jumping on my bed all the time.
This is my summer bedspread and baby girl wanting to be silly!
Yes, I have a toddler bed in my master bedroom. My bed is too small for all the the children who end up in it each night. So someone has to sleep here.
This is my dresser and it contains my clothes The top of my dresser has two lamps(with two Chinese good luck fobs), one jewelry box from China, the porcelain hand is for holding rings, another small jewelry box from my daughter and two German handmade music boxes(that I purchased and hand carried back from Germany). Taped to my mirror are notes from my children telling me how much they love me!
This is my nightstand(purchased from Target a couple of months ago for $37.00!!): water, coaster from this lovely gal , Blistik (I am addicted to Blistik), sleep machine(an absolute MUST or I can not sleep), alarm clock and a shard box from China made from Ming.
This is hubbie dresser . . . that is mostly empty . . . seriously . . . he doesn't use it, pictures of our family adorn the top.
All four of my walls pictured here. Painted a very dark green with flecks of moss green and dark brown. I painted this room and then sponged it. The wall with all the mirrors actually has tissue paper crumpled and glued on the wall and then painted. It took FOREVER, so I only did the one wall. I like the dark color and have not grown tired of it yet. I like that wall a lot, and would love to put more mirrors up, but hubbie will kill me if I do! I made (w/ a sewing machine) the curtains (lined and all) myself and made the curtain rod from plumbing tube and spray painted it gold. There are speakers that are wired to our surround system when the mood strikes . . . perhaps in 6 more years when my children aren't sleeping with us. (I hate televisions in the bedrooms). I don't like that even though I painstakingly made this room so dark, light still peeps in through the doors! I can not sleep if there is one sliver of light on my face!
This is the ceiling which I love and adore . . . it is curved and high.
another view of my drapes
door on the left is to en-suite and the door on the right is to enter the MB
This picture - Love this - I received this from a dear friend the day I came home from the hospital with my first born. It is me completely!
closer view of my paint and tissue wall
I didn't even really know what was under the bed because I never look under there except to find a hiding child during games. I also did not clean under there and expected loads of dust. But, no dust and only a bat(in case of a burglar) , a book, two duffel bags and fire safety step ladder.
So I will end this by asking . . . What's on your night stand?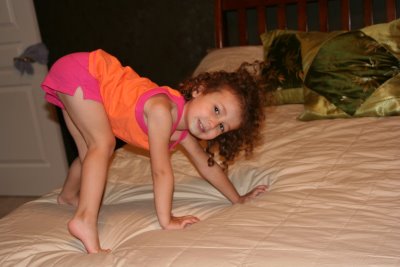 oh, and baby girl doing her stretches!!