Let The Memories Begin . . . #DisneySMMoms,
. . . at Disney Social Media Moms Celebration . . . I was so elated to have been able to attend such a wonderful event AND even more so that my family was able to attend. Attempting to balance mommyhood and bloggyhood is not always the easiest (at least for me) and this conference was the perfect balance for my life right now.
We have known that we were going to Disney for months . . . my son was super excited, my daughter was super excited and my 4 year old was super excited because her siblings were excited . . . but really, I know she can't recall her first visit at age one and a half. I myself was beyond exited and I was gearing up for a perfect two week vacation.
Walking down the ramp from the monorail to the Disney entrance is always so wonderful and awe inspiring . . . half galloping, half striding . . . attempting to remain at a walking pace . . . a big smile plastered on all our faces . . . we make it through bag checking and ticket taking and what do we do . . . just stand there. We were IN! Where to go? What to do first? Each child had a map in hand and all began making their demands to our first stop.
Buzz Lightyear lasered our way into the seats of Monsters Inc who laughed us onto the floor. Indy Speedway cars raced us over to twirling purple teacups. Dumbo gave us the ride of our lives. We all sang along visiting it's a small world. We looked for Tigger in the honey pot. Snow White has us huddled together while walking though the woods with the dwarfs. Mickey's PhilharMagic had us all laughing and singing along in our seats. The children have decided that daddy needs to build a tree house like The Swiss Family Treehouse and I couldn't agree more. The magic carpet ride with Aladdin was spectacular at midnight. A Jungle Cruise was so lovely once that we had to take it twice. Jack Sparrow was found on a loop-de-loop. The Hall of Presidents made me tear up and feel heart swelling pride to be an American. The darkness at Haunted Mansion only made my son gleefully state, can I go again. Watching the Disney Electrical Parade once, made it more enjoyable the second and third time!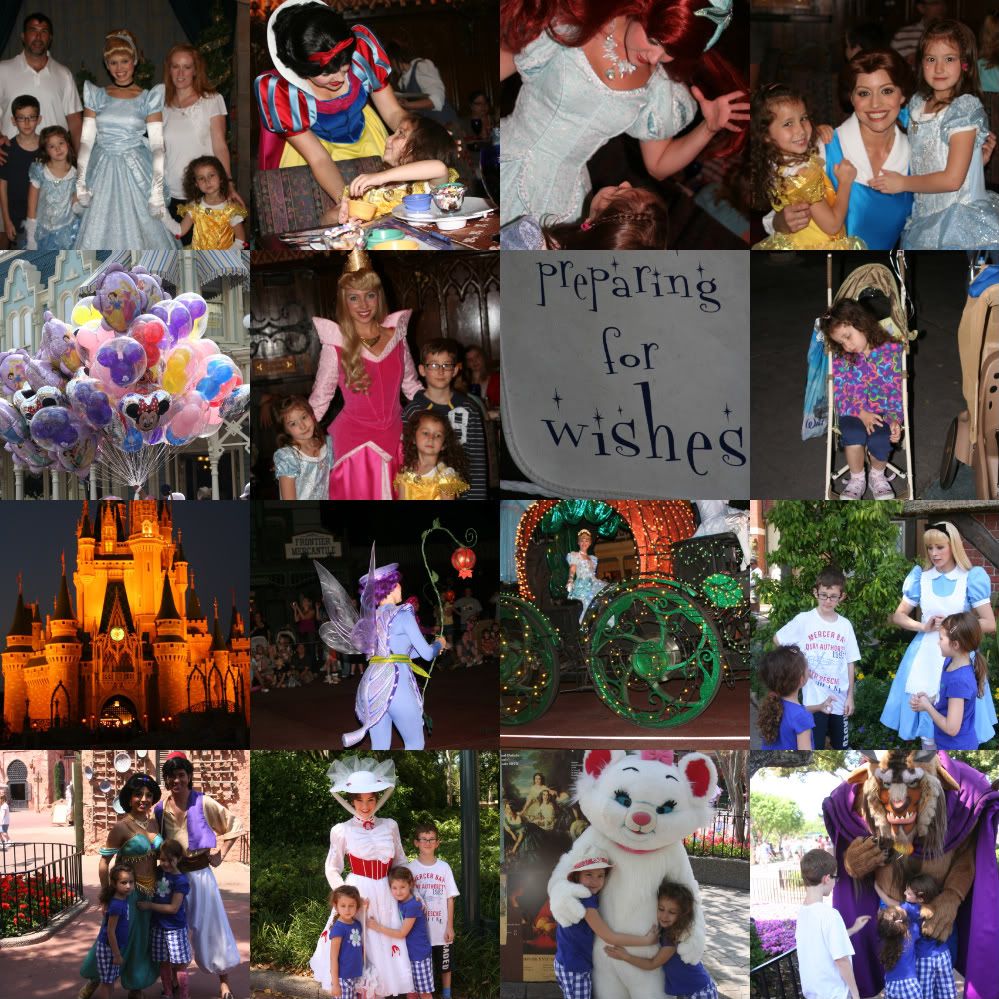 Not one little nook or cranny of Disney's Magic Kingdom was left out of this trip. We explored and loved each moment of our seven-delicious-glorious days there. Favorite moment for dear son: a solo ride on Space Mountain that he swears he will never do again (but it is his favorite moment). My daughters each replied in unison: DINNER AT CINDERELLA'S CASTLE. My favorite moments are: 1) watching my beautiful children smile continuously for 7 days straight AND 2) sitting in Cinderella's Castle eating dinner while having several princesses dance around us AND 3) watching Donald Duck shimmy his tail with my daughters (hilarious)!
Disneyland was amazing! My only issue right now is that we are all on this marshmallow, lollipop, Mickey Mouse induced high . . . I call it the Disney Attitude! I hope it never goes away!
Disclosure: Thanks to Disney Social Media Moms and Walt Disney Resorts. I received discounted lodging, park tickets and merchandise in attending this conference. My opinions are my own.