Fourteen MeLt-In-YouR-MouTh dessert recipes
14

irresistible and delicious

MeLt-In-YouR-MouTh

dessert recipes - that can be eaten at any time and I can attest to each one that I have made and devoured!

2 cups broken chocolate eggs
1½ teaspoons vanilla
1½ cups thickened cream, heated to boiling point
6 egg yolks
2 egg whites
Process chocolate and vanilla in food processor for 30 seconds. Add boiling cream and continue to process until chocolate is melted. Add yolks and blend briefly then pout into a bowl to cool. Beat egg whites until stiff peaks form, then gently fold into chocolate mixture. Pout into serving glasses and chill. Serves 6.
EASY LAMINGTONS
(
SUPER DELICIOUS!!
)
(from my Aussie friend)

1 packet vanilla cake mix
3 cups desiccated coconut
500g icing sugar
1/3 cup cocoa
15g butter
½ cup milk
Bake the cake in a shallow rectangular baking tin. Allow to cool and leave, covered, overnight. Next day, cut into rectangles of desired size. For icing, sift icing sugar and cocoa into a heatproof bowl. Stir in butter and milk, heating over hot water until smooth and glossy. Holding each rectangle on a fork, dip each into icing, allowing excess to drain off. Toss in desiccated coconut and place on a tray to dry. Store in an airtight container for up to 5 days.
(by Nigella Lawson)

for the chocolate meringue base:
6 egg whites
one and a half cups superfine sugar
3 tablespoons best quality cocoa powder, sieved
1 teaspoon balsamic or red wine vinegar
2 oz bittersweet chocolate, finely chopped
for the topping:
2 cups heavy cream
4 cups raspberries
2-3 tablespoons coarsely grated bittersweet chocolate
Nigella: Preheat the oven to 350 and line a baking tray with baking paper.Beat the egg whites until satiny peaks form, and then beat in the sugar a spoonful at a time until the meringue is stiff and shiny. Sprinkle over the cocoa and vinegar, and the chopped chocolate. Then gently fold everything until the cocoa is thoroughly mixed in. Mound on to a baking sheet in a fat circle approximately 9 inches in diameter, smoothing the sides and top. Place in the oven, then immediately turn the temperature down to 300 and cook for about one to one and a quarter hours. When it's ready it should look crisp around the edges and on the sides and be dry on top, but when you prod the center you should feel the promise of squidginess beneath your fingers. Turn off the oven and open the door slightly, and let the chocolate meringue disc cool completely. When you're ready to serve, invert on to a big, flat-bottomed plate. Whisk the cream til thick but still soft and pile it on top of the meringue, then scatter over the raspberries. Coarsely grate the chocolate so that you get curls rather than rubble, as you don't want the raspberries luscious color and form to be obscured, and sprinkle haphazardly over the top, letting some fall, as it will, on the plate's rim.
Chocolate Mousse
(by Paula Deen)

6 (4-ounce) bars bittersweet chocolate
2/3 cup extra-strong black coffee
4 large eggs, at room temperature separated
1 cup sugar, plus 1/2 cup
2 cups heavy cream
Whipped cream, for topping
Shaved chocolate, for garnish
Berries, for garnish
Break chocolate into smaller pieces and melt on top of a double boiler. When close to being melted add coffee and stir together.
In a separate bowl, beat 3 egg yolks and 1 cup of sugar, mixing well. Add mixture to melted chocolate and cook over heat. Stir well until sugar is dissolved. Remove from heat. Cool.
Using a handheld electric mixer, beat 4 egg whites until they form soft peaks. Fold into chocolate mixture.
Beat heavy cream with the remaining 1/2 cup sugar until soft peaks begin to form. Fold into chocolate mixture.
Serve in a beautiful crystal dish or glass. Garnish with dollops of fresh whipped cream, berries and shaved chocolate.
Lemon Goat Cheese Cake
(OH - MY this one is a close 2nd!!)
(by Mario Batali)

1 ¼ cups plus 2 Tbsp sugar (plus more for the pan)
6 large eggs, separated
1 ½ pounds fresh goat cheese (preferable Coach Farm, I could not find this and whatever was available has worked)
2 Tbsp light rum
3 tablespoons unbleached all-purpose flour
grated zest of 2 lemons
1 tbsp plus ¼ cup fresh lemon juice
½ tsp kosher salt
2 pints fresh raspberries (or any fruit really)
Whipped cream or creme fraiche (optional)
Preheat the oven to 325 degrees. Spray an 8-inch springform pan with nonstick cooking spray and sprinkle the bottom and sides with sugar , shaking out the excess.
In the bowl of an electric mixer, beat the egg yolks and 1 cup of the sugar until the yolks are very pale. Slowly beat in the goat cheese, 1 cup at a time. Add the run, flour, lemon zest, 1 tablespoon of the lemon juice, the vanilla and salt and beat until creamy.
In another bowl, whisk the egg whites with a pinch of sale until foamy. Slowly add 2 tablespoons of the sugar and continue whisking until you have a soft-peaked meringue. Working in two batches, gently fold the whites into the cheese mixture.
Pour the batter into the prepared pan. Place the pan in a baking dish large enough to containit comfortable. Pour enough hot water in the baking dish to reach approximately 1 inch up the sides of the pan. Cover the entire baking dish with aluminum foil and carefully place it on the middle rack of the oven.
Bake for 35 – 40 minutes, or until the cake begins to rise slightly and is somewhat set in the middle. Remove the foil and bake for an additional 10 minutes, or until the cake is completely set. Remove the cake from the oven and allow it to cool in the baking dish for several minutes.
Meanwhile combine the remaining ¼ cup of lemon juice and ¼ of sugar in a small saucepan and bring to a boil. Boil rapidly for 1 minute, or until the mixture has thickened slightly. Remove from the heat and set aside to cool.
When the cake has cooled slightly, remove the pan from the baking dish. Refrigerate the cake until completely chilled. Remove the sides of the spring form pan, then spoon the lemon syrup over the cake to glaze. Cut into wedges and serve with the berries.
Chocolate Mousse with Mascarpone Crème Brûlée
(so rich and so scrumptious!)
(by Curtis Stone)

For the crème brûlée:
2/3 cup whipping cream
1/3 cup whole milk
1/2 teaspoon unflavored powdered gelatin
1/2 vanilla bean, split lengthwise
4 large egg yolks
1/4 cup superfine sugar
1/3 cup mascarpone cheese
For the chocolate mousse:
5 ounces dark bittersweet chocolate, chopped
2 large eggs
1/4 cup superfine sugar
1 cup heavy whipping cream
Powdered sugar, for dusting
Fresh raspberries, for garnish
To make the crème brûlée:
Place the cream and milk in a heavy small saucepan. Sprinkle the gelatin over the cream mixture and set aside for 5 minutes to allow the gelatin to soften. Scrape the seeds from vanilla bean into the cream mixture and add the bean. Bring to a simmer over medium-low heat, stirring until the gelatin dissolves, about 10 minutes. Whisk the yolks and sugar in a medium bowl to blend. Whisk in the mascarpone. Gradually whisk in the hot cream mixture. Return the cream mixture to the same saucepan. Stir constantly over medium-low heat for 6 minutes, or until the foam subsides and the custard thickens enough to coat a spoon.Transfer the custard to a clean bowl and set the bowl over a large bowl of ice water. Stir the custard until it is cold but not set; discard the vanilla bean. Set the custard aside. Reserve the bowl of ice water.
To prepare the mousse:
Stir the chocolate in a heatproof bowl set over a saucepan of hot water until melted. Using an electric mixer on medium-high speed, beat the eggs and sugar in a large bowl until medium peaks form, about 8 minutes. Whisk in the chocolate mixture. Set the bowl of the chocolate mixture over the bowl of ice water. Whisk the cream in a medium bowl until very thick.Fold about 1/2 cup/55 g of the cream into the chocolate mixture to help lighten it. Continue whisking the remaining cream until soft peaks begin to form. Gently fold the whipped cream into the chocolate mixture.
To assemble the desserts:
Spoon half of the chocolate mousse into each of four 10- to 14-ounce/290- to 400-ml wine glasses. Refrigerate the mousse in the glasses for 15 minutes and keep the remaining mousse in the bowl over the ice water.Pour the custard over the mousse in the glasses. Refrigerate for 30 minutes, or until the custard is set. Spoon the remaining chocolate mousse over the custard and spread the tops to create a smooth even surface.Cover and refrigerate until the mousse is cold, at least 2 hours. Sift powdered sugar over the raspberries then set the raspberries atop the desserts and serve.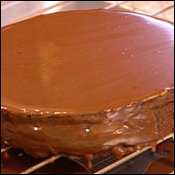 Flourless Chocolate Cake with Ganache and Whipped Cream
(DELICIOUS!!)
(by Curtis Stone)

For the cake:
1½ sticks butter (softened)
1 cup castor sugar
6 eggs separated
6oz plain dark chocolate, melted
½ tea spoon of ground cinnamon
For the ganache:
¾ cup heavy cream
6 oz plain dark chocolate, melted
Preheat oven to 180 C/350 F. Grease and flour an 8 inch x 4 inch high spring form cake tin. Cream the butter and sugar together in a large mixing bowl until light and fluffy. Add the egg yolks one at a time (slowly). Mix in the melted chocolate and the ground cinnamon. Whisk the egg whites in a separate bowl until they form stiff peaks. Stir 1/3 of the egg whites into the mixture to loosen the mixture. Slowly fold the rest of the egg whites into the mixture. Pour mixture into the prepared cake tin. Bake in the oven for 35-40 min. Remove from cake tin and allow to cool for 45min. Cake will deflate during cooling.
To make the ganache:
In a medium sized sauce pan, heat the cream and add the melted chocolate and stir. Allow to cool slightly.Cut off the uneven crust from the top of the cake. Invert cake onto a cooling rack set over a large bowl. Pour ganache over the cake and allow excess to drain off. Decorate cake with candles and serve with whipped cream.
Cranberry Swirl Cheesecake with Cranberry-Raspberry Compote
(I make this on Thanksgiving - so yummy!)
(Bon Appétit December 1998 )


For cranberry purée:
2 cups fresh cranberries or frozen, thawed
2/3 cup sugar
2/3 cup fresh orange juice
2 tablespoons grated orange peel
1/2 teaspoon ground cinnamon1/4 teaspoon ground nutmeg
4 teaspoons vanilla extract
For crust:
Nonstick vegetable oil spray
2 3/4 cups finely ground butter biscuit cookies or butter cookies
2 tablespoons sugar1 teaspoon ground cinnamon
1/2 cup (1 stick) unsalted butter, melted
For filling:
4 8-ounce packages cream cheese, room temperature
1 cup sugar4 large eggs1 cup sour cream
1/2 cup whipping cream
1 tablespoon vanilla extract
Make cranberry purée:
Combine all ingredients except vanilla in heavy large saucepan. Cook over medium heat until mixture thickens, stirring occasionally, about 5 minutes. Cool slightly. Transfer to processor. Add vanilla. Puree until smooth. Strain into medium bowl. Cover with plastic. Refrigerate at least 6 hours.
Make crust:Spray 10-inch-diameter springform pan with 2 3/4-inch-high sides with nonstick spray. Wrap outside of pan with 2 layers of heavy-duty foil. Blend cookies, sugar and cinnamon in processor. Add butter; blend until moist clumps form. Press crumb mixture onto bottom and up sides of pan. Chill crust while preparing filling.
Make filling:Position rack in center of oven and preheat to 350°F. Using electric mixer, beat cream cheese in large bowl until fluffy. Beat in sugar. Beat in eggs 1 at a time. Mix in sour cream, whipping cream and vanilla.
Transfer 1/3 of filling to prepared crust. Dollop 1/3 of cranberry puree atop filling. Repeat layering of filling and puree 2 more times. Using knife, swirl puree through filling, creating marbled design.
Place spring form pan in large roasting pan. Pour enough boiling water into roasting pan to come halfway up sides of spring form pan. Bake until cheesecake puffs around edges, about 1 hour 15 minutes. Turn off oven. Let cake stand in oven 1 hour, leaving oven door ajar.
Transfer cake to rack. Run knife around pan sides to loosen cake. Cool completely. Remove foil from pan sides. Cover cake and chill overnight. (Can be made 2 days ahead. Keep refrigerated.)
Remove pan sides. Serve cake with Cranberry-Raspberry Compote.
cranberry-raspberry compote
1 12-ounce package frozen unsweetened raspberries, thawed
1 cup fresh cranberries or frozen, thawed
3/4 cup (packed) golden brown sugar1 tablespoon fresh lemon juice
2 teaspoons grated lemon peel
1/2 teaspoon ground cinnamon
1/4 teaspoon ground nutmeg
1 tablespoon vanilla extract
Combine all ingredients except vanilla in heavy medium saucepan. Simmer over medium heat until cranberries burst and mixture thickens, stirring occasionally, about 10 minutes. Remove from heat. Cool slightly. Stir in vanilla. Cool to room temperature. Cover and refrigerate until cold, at least 6 hours. (Can be prepared 2 days ahead. Keep refrigerated.)
Peanut Butter Squares
(THESE are AD-DIC-TIVE!!!!)
(by Nigella Lawson)

for the base:
quarter cup brown sugar
1 and three quarter cups powdered sugar
half stick unsalted butter
three quarters cup smooth peanut butter
for the topping:
7oz milk chocolate
3oz semi-sweet chocolate
1 tablespoon unsalted butter
1 x 9 inch square brownie tin, lined, preferably, with Silpat
Nigella: Stir all the ingredients for the base together until smooth. I use the paddle attachment to my mixer which my children love operating, but a bowl and a wooden spoon will do the job just as well. Press the sandy mixture into the lined brownie tin and make the surface as even as possible.To make the topping, melt the chocolates and butter together (in a microwave for ease, for a minute or two on medium) and spread on the base. Put the tin in the fridge to set. When the chocolate has hardened, cut into small squares – because, more-ish as it undeniably is, it is also very rich.
Ultimate Coffee Cake
(by Paula Deen)
(my kids love these)


16 to 18 unbaked frozen dinner rolls (I did not use this many)
1 (3-ounce) package regular butterscotch pudding mix, not instant
1/2 cup brown sugar, packed
1/2 cup pecans, chopped (I used pecans, but don't usually sue any nuts in my recipes as I don't like nuts in my food)
1 stick (1/2 cup) butter, melted
The night before place frozen rolls in well greased Bundt pan. Sprinkle dry pudding mix over rolls. Sprinkle brown sugar over pudding mix. Sprinkle chopped pecans over brown sugar. Pour melted butter over all. To prevent the dough from forming a hard crust while its rising overnight, cover with a damp towel or tightly wrap with plastic wrap. Let rise overnight at room temperature, about 8 to 10 hours.
Preheat oven to 350 degrees F.
Bake in oven for 30 minutes. Remove from the oven and allow to cool for 5 minutes. Turn pan over onto a serving platter to remove. Serve by pulling apart chunks with forks.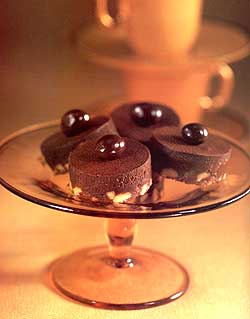 Double Layer Truffle Brownies
(by DeDe Wilson)
(my children's favorite)

Bottom Layer:
4 ounces (1 stick) unsalted butter, cut into large pieces
2 1/2 ounces semisweet chocolate, finely chopped
1 1/2 teaspoons vanilla extract 1 teaspoon instant coffee or espresso
pinch salt
1 cup granulated sugar
2 large eggs
1/2 cup all-purpose flour
6 ounce (about 1 1/4 cups) walnut halves, toasted and coarsely chopped
Top layer:
8 ounces semisweet chocolate, finely chopped
4 ounces (1 stick) unsalted butter, cut into large pieces
2 tablespoons granulated sugar
1/2 cup heavy cream
pinch salt
1 teaspoon instant coffee or espresso
1 teaspoon vanilla extract
1 large egg
4 large egg yolks
Preheat oven to 325 degrees F. Spray 13 by 9-inch pan with pan coating.
For bottom layer: melt butter and chocolate together in double boiler or microwave. Stir in vanilla extract, instant coffee and salt. Whisk in sugar and eggs, one at a time, whisking well after each addition. Add flour and stir briefly just until smooth. Stir in nuts and scrape batter into pan.
For top layer: melt chocolate and butter together in double boiler or microwave. Off heat, whisk in sugar, cream, salt, coffee and vanilla extract. Add eggs and yolks one at a time, whisking well after each addition. Stir until smooth. Pour over bottom layer, using an offset spatula, if necessary, to spread evenly.
Bake for 18 to 20 minutes, or until top has a dull cast and the edges are just beginning to pull away from the pan sides. A toothpick inserted in the center will have moist batter clinging to it. Do not over bake.
DeDe: (They will look loose, DON'T WORRY. They are like cheesecakes; they firm up a lot upon cooling). Cool on wire rack. These must be chilled before cutting. Feel free to refrigerate or freeze these. They are one of the very few recipes I make where I don't mind freezing them. Store refrigerated, covered with plastic wrap. Best eaten within 2 days.(Or freeze for up to a month after wrapping in plastic, foil and popping in a ziplock bag). May be eaten at room temperature or chilled.
Take it to the Limit You will need a 1 1/2-inch round cookie cutter and 35 dark chocolate covered espresso beans. Cool brownies to room temperature, then refrigerate for 1 hour. Cut out 35 rounds with the cookie cutter (rows of 5 across and 7 down). Place each round in a fluted cup, if desired, and top with a chocolate covered espresso bean. Perfect with coffee, following a fancy dinner. Follow storage and serving instructions above.The chocolate covered espresso beans are real coffee beans, covered with dark chocolate. You can find them at better coffee stores and specialty food stores. Other TIPS: Try a square of these under vanilla or coffee ice cream with hot fudge sauce. You'll be left with extra scraps of brownie. Fold them into vanilla ice cream for Truffle Brownie Ice Cream.
Apple Crumb Pie
(Literally the BEST Apple Pie you will ever eat in your life!)
(from Real Simple Nov 2007)

For the crust:
1 1/4 cups all-purpose flour, plus more for the work surface
3/4 teaspoon kosher salt
1 1/2 teaspoons granulated sugar
6 tablespoons unsalted butter, cold and cut into pieces
3 tablespoons solid vegetable shortening, cold
3 to 6 tablespoons ice water
For the filling:
1 pound Cortland, Empire, or McIntosh apples
2 pounds Granny Smith apples 1/4 cup fresh lemon juice
1/4 cup granulated sugar 2 1/2 teaspoons ground cinnamon
1/2 cup (about 2 ounces) walnuts, finely chopped (I don't like nuts in my food, so this I did not add)
For the topping:
1 cup all-purpose flour
1/4 cup packed dark brown sugar
1 teaspoon ground cinnamon
Pinch of kosher salt
8 tablespoons (1 stick) unsalted butter, cold and cut into pieces
Make the crust: (I did not do this either, I used store bought crust)
Combine the flour, salt, and sugar in a food processor. Add the butter and shortening and pulse to form a coarse crumble. While the motor is running, add the ice water, 1 tablespoon at a time, until the dough just comes together. Turn out onto a lightly floured surface and knead just until smooth. Shape into a disk and wrap in plastic. Refrigerate for 45 minutes. On a lightly floured surface, roll the dough into a circle about 14 inches in diameter and place in a 9-inch pie plate. Using your fingers, fold over any overhang and crimp the edge. Refrigerate until ready to use.
Make the filling:
Heat oven to 375° F. Peel, core, and slice all the apples 1/4 inch thick. Gently toss them in a bowl with the lemon juice, sugar, and cinnamon. Spoon into the crust and sprinkle the walnuts over the top.Make the topping: Combine the flour, sugar, cinnamon, and salt in a food processor. Add the butter and pulse to form a medium crumble (with pieces about the size of peas). Sprinkle the topping over the apples and walnuts. Bake for 1 hour, or until the crust is golden brown and the apples are tender.
Make-Ahead Note: The pie can be made up to 1 day ahead. Let cool, then cover and refrigerate. To warm, bring the pie to room temperature, then heat at 350° F for 20 minutes.
Pavlova
( I love Pavlova!!)
(by Nigella Lawson)



8 egg whites at room temperature
500g caster sugar
4 teaspoons cornflour
2 teaspoon white wine vinegar
few drops pure vanilla extract
300ml double cream, whipped till firm
pulp of 10 passion fruits

NIgella Lawson...Christmas...Prodigious Pavlova - Watch more amazing videos here
Preheat oven to 350ºF. Line a baking sheet with baking parchment and draw a 8-9-inch circle on the paper. I often don't, and just imagine what size the circle should be as I dollop the meringue on. This seems to work fine. Beat the egg whites with a pinch of salt until satiny peaks form. Beat in the sugar, a third at a time, until the meringue is stiff and shiny. Sprinkle over the cornstarch, vinegar and vanilla and fold in lightly. Mound on to the paper on the baking sheet within the circle, flatten the top and smooth the sides. Place in the oven. IMMEDIATELY reduce the heat to gas mark 2/300ºF and cook for 1 and a quarter hours. The pavlova will color slightly. Turn off the oven and leave the pavlova in it to cool completely. Invert the pavlova on to a big, flat-bottomed plate, pile on cream and spoon over passion fruits scooped - pips and all - from their shells. Don't be tempted to add other fruit.
Slut-Red Raspberries In Chardonnay Jelly
(
This is heaven on the plate)
(by Nigella Lawson)

Nigella: You might think that no recipe could live up to this title. It's a reasonable presumption, but thank God, a wrong one. This is heaven on the plate: the wine-soused raspberries take on a stained glass, lucent red, their very raspberriness enhanced; the soft, translucently pale coral just-set jelly in which they sit has a heady, floral fragrance that could make a grateful eater weep. If there's one pudding you make from this book, please, please make it this. This recipe was emailed to me from Australia from my erstwhile editor, Eugenie Boyd. I've fiddled with it a bit, but it is the best present a foodwriter could ever have. Now it's yours.
1 bottle good fruity Chardonnay
300g raspberries (frozen seem to be fine)
1 vanilla pod, split length ways (or a teaspoon of extract)
5 gelatin leaves (or 1 packet gelatin granules)
250g caster sugar
double cream to serve
Place the wine and berries in a bowl and allow to steep for half an hour. Strain the wine into a saucepan and keep the raspberries to one side. Heat the wine with vanilla pod until nearly boiling and leave to steep on one side for 15 minutes. Soak the gelatin leaves - which you can find in the supermarket these days - in cold water for about 5 minutes. Remove the vanilla pod and reheat the wine stirring the sugar in until it dissolves; allow to boil if you want to lose the alcohol. Add a third of the hot wine to the wrung-out gelatin leaves in a measuring jug and stir to dissolve, then add this mixture back into the rest of the wine and stir well. Strain into a large jug. Place the raspberries, equally, into 6 flattish, clear glass serving bowls, and pour the strained wine over the top. Allow to set in the fridge for at least 3 hours, though a day would be fine if you want to make this well ahead, and take out of the fridge 15 minutes before serving. Serve with some double cream in a jug, and let people pour this into the fragrant, tender, fruit-jeweled jelly as they eat.